Verisurf Education Solutions
Verisurf is the industry leader, because its powerful and intuitive graphical software solutions provide a universal interface to all brands and models of industry standard devices such as manual-gages, hand scanners, portable arms and CMMs.
Key Education Benefits that check all the boxes
Industrial solutions for education
One universal interface to all brands and models of devices
Precision measurement and reverse engineering (RE) in one product.
Turnkey integrated solutions to hand scanners, portable arms and CMM's
Verisurf Metrology Certification
Responsive customer support
NIMS programs and reports option
Student training, testing and certification
Student Home Learning Edition (HLE)
Seamlessly upgrade older CMMs
Popular Turnkey Education Solutions
Master 3D Gage
(Optional Laser Scanner)
Master3DGage® is a complete CMM hardware and software solution for inspection and reverse engineering. The multi-axis portable CMM features absolute encoders for quick start-up and highly accurate and precise measurements. Its lightweight, wireless design and battery-powered capability enable the Master3DGage® to be placed right into your CNC machine for in-process inspection.
Optional 3D scanner and hot-swappable probes make it easy to switch from scanning complex profiles to probing primitive features in seconds.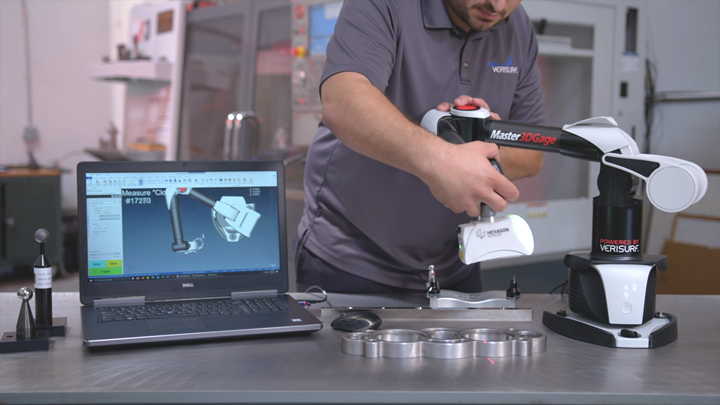 CMM Master – Renishaw Equator
The CMM Master provides process control by delivering optimal price and performance to your application. The system brings highly repeatable, thermally insensitive, versatile, and programmable inspection to the shop floor.
The solution is uniquely designed to be the most cost-effective, automated inspection system that is close to the production line or assigned to dedicated work cells.
Our approach adds a unique Cubic Volumetric Mapping (CVM) process utilizing 24 parameter calculations to error map and significantly improve accuracy over the standard, comparator-based Equator. It eliminates the costly step of the typical "mastering" process that involves a separate CMM to baseline your part.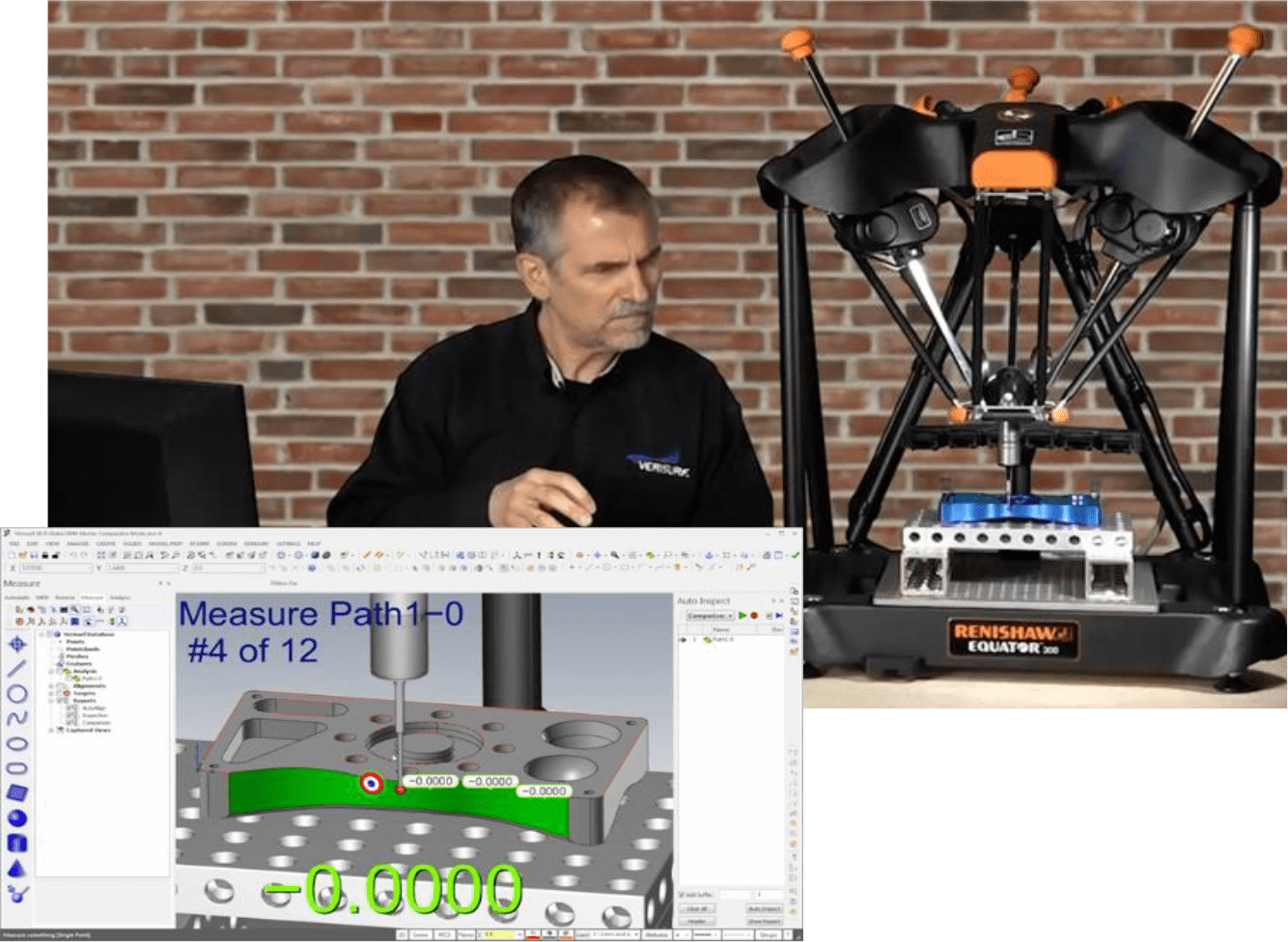 Hand Scanner
The peel 3 scanner is fast and extremely easy to use, offering a scan speed of up to 80 sec/m2 (7.4 sec/ft.2) with an accuracy of up to 0.1 mm (0.004 in).
With this rugged handheld 3D scanner, you can tackle complex projects and take advantage of higher measurement resolution, color capture, enhanced tracking, and enhanced geometry capture.
The 3D handheld laser scanner works seamlessly with Verisurf in a single, integrated workflow. Bundle the scanner with several different Verisurf Scan Data software suite configurations depending on your usage requirements or coordinate with your Verisurf representative to define a software configuration that best suits your unique situation.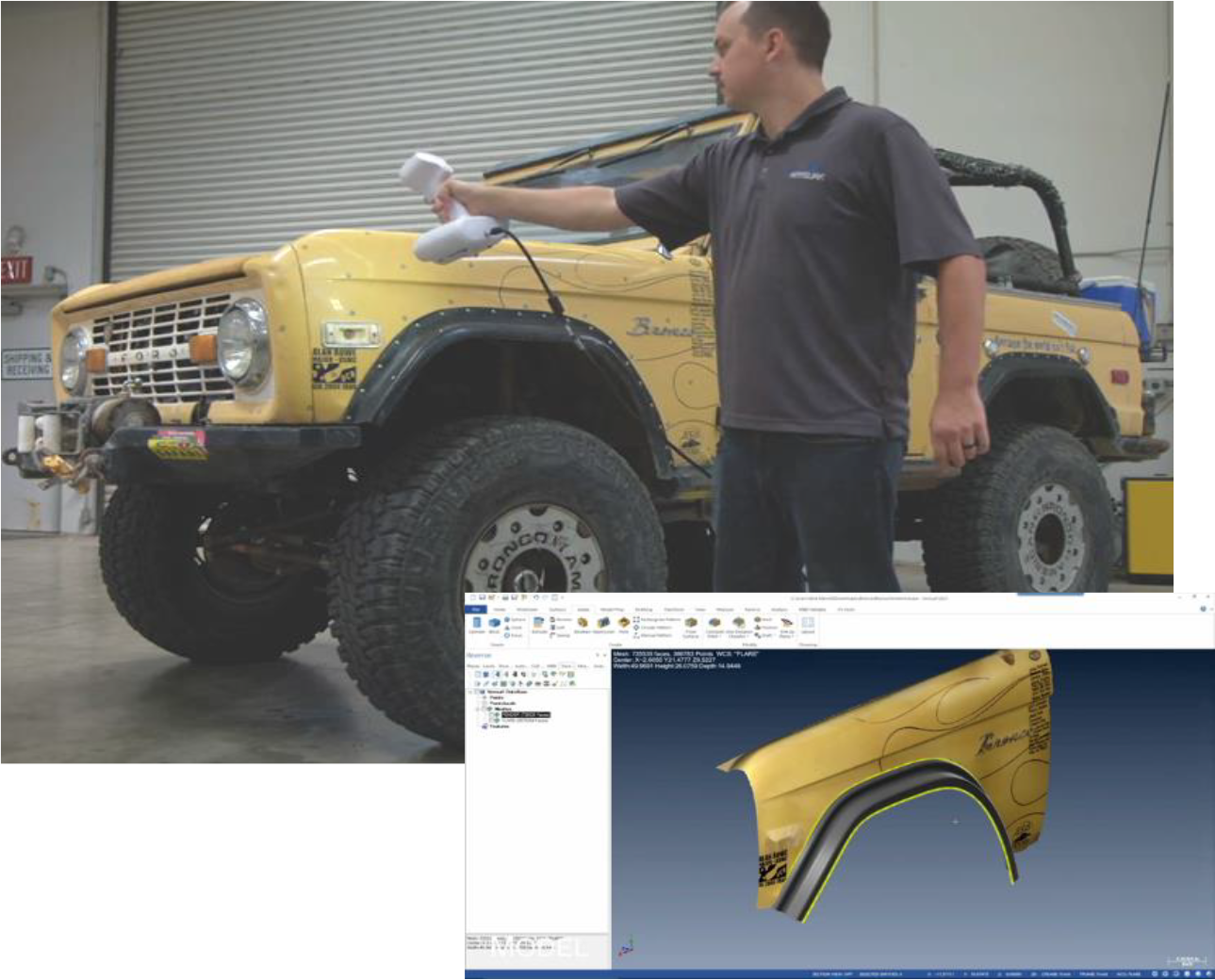 3D Gage Scalable Lab
The flexibility and affordability of portable CMM's combined with 3D model-based software enable users to quickly implement lean inspection practices right on the shop floor that yield real improvements in production and quality while reducing costs.
These proven benefits result in a rapid return on investment and are the reason why 3D model-based measurement systems are revolutionizing manufacturing around the world.
Verisurf Certification
Verisurf provides interactive online learning, testing and certification, in addition to traditional Instructor-led training, workbooks, and support.